Logo of ASANA
Selva Mar and Rancho La Merced Wildlife Refuge belong to a Costa Rican family this two were created with conservation in mind, we are co-founders of ASANA and the Corredor Biológico Paso de la Danta; Rancho La Merced Wildlife Refuge is within the territory of the Paso de la Danta, so its very important for us to preserve it and maybe you want to help collaborating with long-term established organizations like ASANA and be part of this great effort.
ASANA (Friends of Nature in South Pacific Association) focuses their efforts and resources in the protection of the Path the Tapir Biological Corridor, where our Hotel is located, and also including small communities like Uvita, Dominical and Ojochal, connecting forest patches between Corcovado National Park, and Terraba Sierpe National Wetlands, with Los Quetzales National Park in the highest mountains of Talamanca. They work on education, conservation and protection of the water resources of this region, co-work with the Environmental Ministry to enforce biodiversity laws and fight against enviromental crimes.
If you want to collaborate, you can make your donation through the Global Giving Program, that you can find under the following link.
http://www.globalgiving.org/projects/help-asana-conserve-costa-ricas-pacific-coast/
To know more about ASANA and their work, you always are welcome to visit their website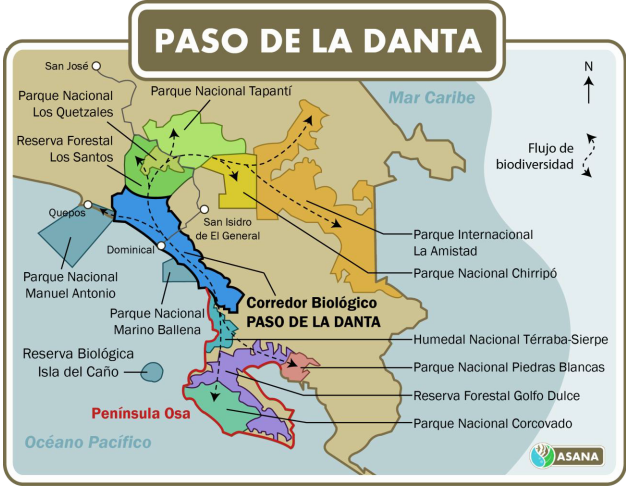 ASANA protects the 'Path of the Tapir' Biological Corridor, where our Hotel is located.